I originally made
the Noro Crescent Shawl
two years ago as a present for one of my knitting students. Yvonnie wanted to learn how to knit so that she would have something to do to keep her hands and mind busy during upcoming chemo treatments. Actually, I came to find out later, it was her daughter who persuaded her to come to class in hopes that it would help her mother through the process. Yvonnie struggled a little at first, as her arthritic fingers would occasionally hurt, or her memory would falter as she tried to remember how to do all four steps of the knit stitch. But she came to class almost every week, practicing the knit stitch over and over. She would sit quietly in her spot at the table, listening to the conversation in the room, then out of the blue toss out a "zinger." Everyone would crack up at her joke, and Yvonnie would smile shyly.
As the start of the scheduled chemo drew closer, I had the urge to make something for my dear student that she could wear while going through the treatments. I had heard that the drugs can make patients feel cold, so I wanted to make her a shawl that would keep her warm. And I wanted it to make her feel like she was being wrapped in a loving hug.
The shawl that I knit for Yvonnie was made in a charcoal-colored DK weight wool/alpaca blend yarn. The alpaca in the yarn made it very warm and soft. I adapted a lace heart pattern for the border, and duplicate-stitched one red heart around the lace repeat that would lay over the wearer's heart. As I knit the shawl, I imagined healing thoughts being knit into each stitch. I knit love into each heart repeat. And I knit hope into each short row.
You may have heard of people making "prayer shawls." That, in essence, is what I was making. Whether you use the term "prayer" or "blessing" or "love" or "well-wishes," it's the same thing. A "prayer shawl" is made when you lovingly craft a gift, infusing it with "get-well" wishes as you make it.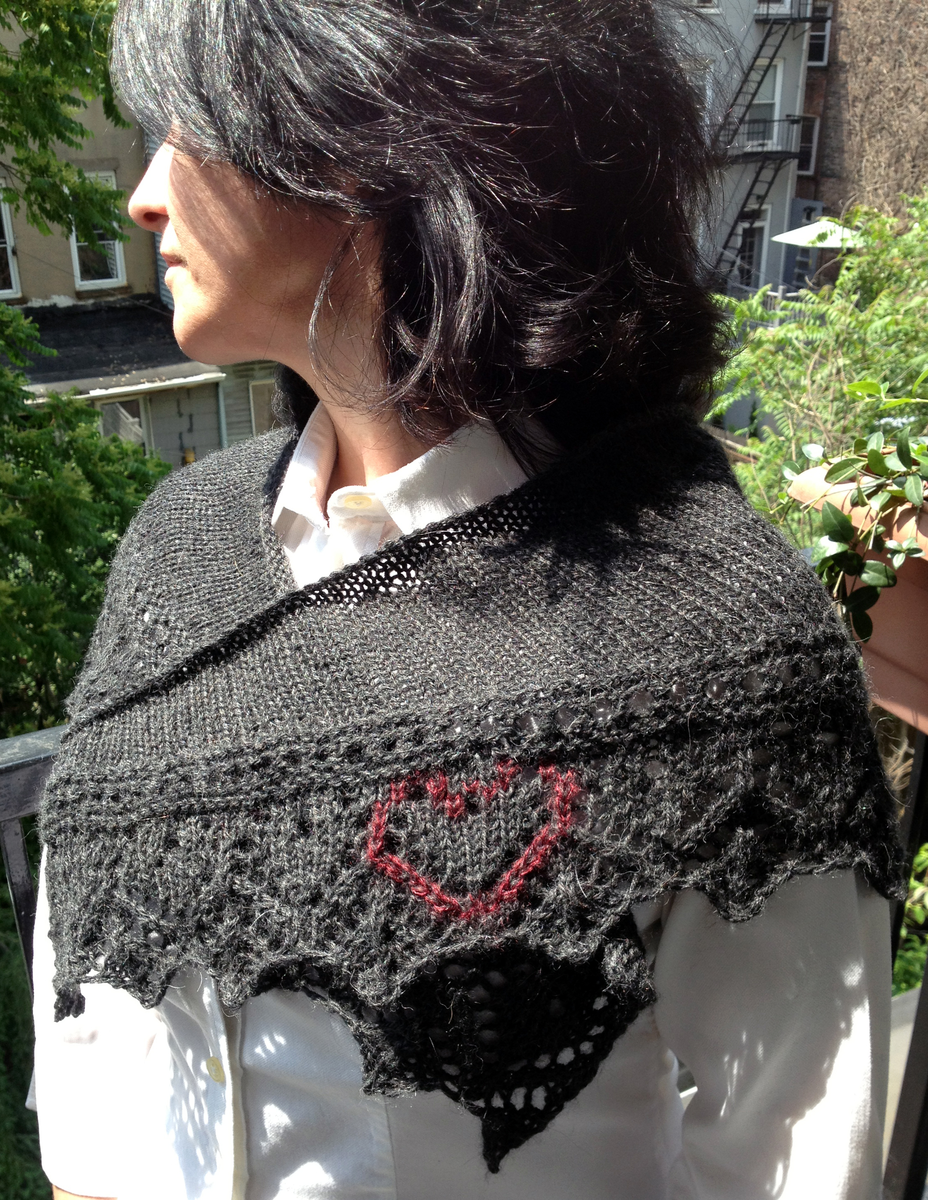 The photo on the left shows the original shawl. The model in the photo is not my student, but my life partner, Debra. The photo on the right IS Yvonnie, taken just a few weeks ago, many years after chemo, wearing a shawl that SHE made for herself.
I am honored that Noro yarn has published this pattern so that I can share this with all of you!
Stay tuned for future blog posts about the Noro Shawl Knit-along, starting August 8th. There will be one more post before the KAL starts, to help you pick your yarn and supplies. Make sure you sign up to receive notifications of when new KAL posts are published by clicking the "Sign Up" button on the top of the sidebar.