I am excited to announce that I will be having my first knit-along in August for
my Crescent Shawl,
which is featured on the cover of Noro Magazine Issue #8!
What IS a knit-along (KAL for short), you may ask? A knit-along is when knitters all work on the same project at the same time in a dedicated online space, where they ask questions of the designer, get help with specific techniques related to the project, and share tips, photos, and their experiences.
I will be hosting the KAL here on my blog, with cross-posts in my
Ravelry group
.
Make sure you sign up in the side bar on the right to receive notification of when new posts are live!
The KAL will start August 8, and run weekly through August 29.
The KAL will include prizes, such as Noro yarn and stitch markers from Ann Tudor, to those who participate!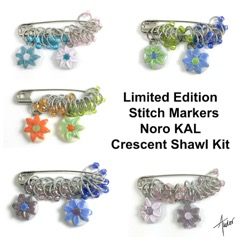 Glass artist Ann Tudor has designed an exclusive set of stitch markers just for this pattern! These beautiful handmade markers coordinate with the 7 colorways of Noro Mirai yarn, and include 22 markers, which is the exact number needed for the stitch repeat of this shawl pattern. You can purchase your very own set of
stitch markers here
.
You can purchase the single pattern on Ravelry
here
or the full magazine from various retailers (or the digital version through the
Knitting Fever/Noro app
).
The Noro Shawl Knit-along starts August 8th!
Plan ahead and get your pattern, yarn, and stitch markers now!