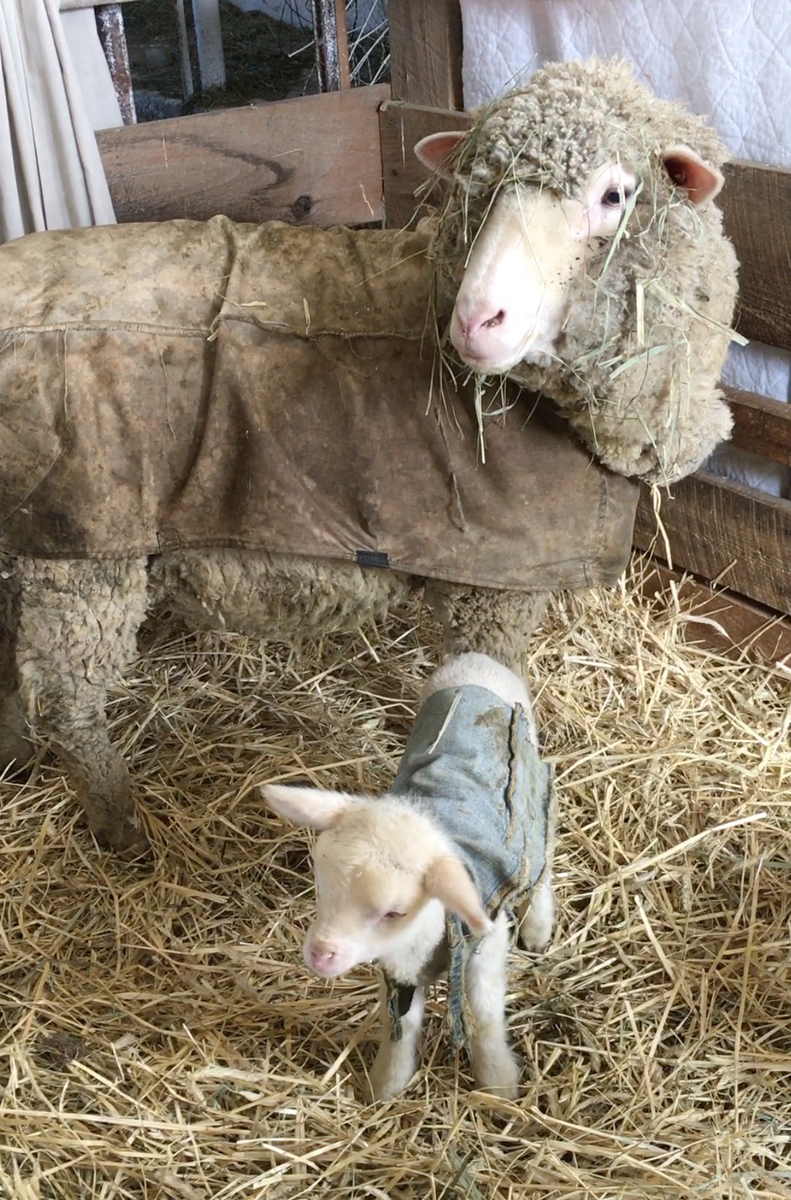 Last weekend I hosted the first (of many to come!) LMB Designs Fiber Adventure Tour. The "Shear and Sweet" trip included visits to farms, a fiber mill, and a maple sugarhouse. Here's a recap of our adventures!
On Saturday, we boarded a train for a scenic ride up the Hudson River. Our first stop was
Ensign Brook Farm
in Greenwich, NY, which we finally found after our GPS told us to "park by the side of the road and be prepared to walk to our final destination." Seriously, Google Maps?
Owner Karin Kennedy and her son welcomed us with a tour that included holding day-old baby lambs and petting tame chickens. Harriet even got to bottle-feed a new baby! We were regaled with stories about how the studly ram, Terrence, had jumped the fence and broken into the barn to party with the ewes, and how on long cold nights newborns had to be rushed inside the house to get dried off with a hair dryer so they wouldn't freeze!
Our next stop was to
Alpacas of Haven Hill Farm
to learn about a different fiber animal. Alpaca yarn is VERY warm, and the fiber has a very long staple length (staple length is the measurement of each individual "hair" strand). We also discovered that alpaca are very shy and skittish, so we didn't get as "up close and personal" as we did with the sheep. Judy, the owner and fiber artist, also had a wonderful little studio and store where she teaches wet felting and weaving. We all bought lots of yummy yarn and warm socks!
The last tour of the day was at
Mapleland Farms
where owner David Campbell taps 14,000 trees to produce 5,400 gallons of maple syrup. We learned that the harvest season lasts only a few months, from about February until the buds appear on the trees, which is when the sap starts to turn bitter. The sap gets reduced down to syrup, which is then bottled or further processed to make maple sugar cream (it's like butta!) or maple sugar "sugar" which they use to coat nuts and make maple sugar candy or a sweet spice rub. I had to have a lot of self-control to resist buying the maple walnut fudge!
Our day ended with a delicious dinner hosted by David and his wife Mary Jeanne, who owns the Battenkill Fibers Mill. On the menu was a tasty salad with maple syrup dressing and hearty lamb stew (I kept calling it veal. I think I was subconsciously trying to dissociate dinner from our day's adventures!) MJ kept us in stitches with her funny stories about farm life and local gossip. After dessert, we retired to the quaint
Bunker Hill Inn
just down the dirt road where the exhausted merry bunch fell fast asleep!
On Sunday, we awoke to a sumptuous "country" breakfast at the Inn, complete with waffles and, yes, more maple syrup! Our hostess, Laura, took a photo of us in her parlor for her guest book. I thought it would be appropriate for us to pose by the antique spinning wheel!
Blind Buck Farm
was our first tour of the day. Our hostess, Lubna, showed us rare Leicester Longwool sheep, as well as merino sheep and angora goats. We got to hold more newborn babies, including a little black goat that was less than a day old. Harriet couldn't resist holding every animal she met, including an angora rabbit ("angora" can mean either a goat or rabbit). And, of course, we shopped for yarn made from Lubna's sheep and goats!
We then went to the
Battenkill Fibers Mill
to learn how the fiber is spun into yarn. MJ has fleeces from all of the local farms, including the ones we had visited, and she showed us how the fleece is prepared and processed. They also dye the yarn, and we learned the origin of the phrase "dyed in the wool" (used to refer to someone who has strong opinions and won't change). There are two different points in processing that fiber can be dyed: after it's been cleaned (but still in pieces), or after it's been spun into yarn. By dyeing the fiber before it's spun (which is called "dyed in the wool" in the industry), the fiber absorbs the color more evenly resulting in a more uniform, consistent color.
Our trip concluded at
The Yarn Shop at Foster Sheep Farm
. We only had a short time to shop, but we were able to find one last skein of local yarn, or a cool shawl pin. Next time we'll plan a longer visit, as Carole carries a wide variety of local as well as commercial yarn.
I am grateful to have met these wonderful women who shared their passions and expertise with us. And I am honored to have shared this special trip with the women who joined me. I'm looking forward to returning next year!