Congratulations to
Mary Wills and Johna Wrzosek, the Giveaway Prize Winners
!
They each received two skeins of yarn for their projects (either Noro Silk Garden or Queensland Brisbane), generously donated by Knitting Fever
!
Welcome to week 3 of the #LMBKAL Mosaic Mitts knitalong! This is the last week of the KAL, in which we will finish our mitts!

Each KAL post starts with an overview that outlines what we'll be learning and working on for the week. You should read the "review" section before working on the corresponding "action" section of the pattern. At the end of every KAL post, you'll receive information on where to post your progress and questions and get a preview of next week!

Week 3 Overview
REVIEW:

ACTION: Work Hand Rows 1-21 of the pattern

REVIEW:

How to block mitts

Sewing mitts

ACTION: Work Finishing section of pattern
Review
How to Work Remainder of Pattern
In Weeks 1 and 2, we worked through Row 34 of the Wrist section of the pattern. This is the final week of the KAL in which we will finish the Hand and Finishing sections.

Continue with your MC and work Rows 1-2 as indicated in the pattern. Then you will work the Mosaic Garter Stitch section as you did on the Cuff (if you need a refresher on how to do this, see this blog post).
Finish the Hand section by working Rows 19-21 and binding off. Make sure you leave a long yarn tail as indicated in the pattern, as you will use this to sew up your mitts.
Action
Work Hand section of pattern.
Review
How to Block Your Mitts
You should block your mitts before you sew them, as blocking will help even out your stitches and make the edges straight(er).

There are many different types of blocking. I generally prefer to wet block my projects, as this works well for most fiber contents.

To wet block:
Fill a sink with lukewarm water. Add a small amount of gentle detergent, such as Woolite, or other wool washes such as Eucalin or Soak.
Immerse project in the sink, gently squeezing project to allow water to penetrate fully through the fibers. IMPORTANT: Do not wring or twist your project.

Allow to soak until the project is completely water-logged.

Rinse, then gently squeeze to remove some of the water.

Lay mitts flat on a towel, then roll up the towel, squeezing as you roll to remove more water.
Pin to dry: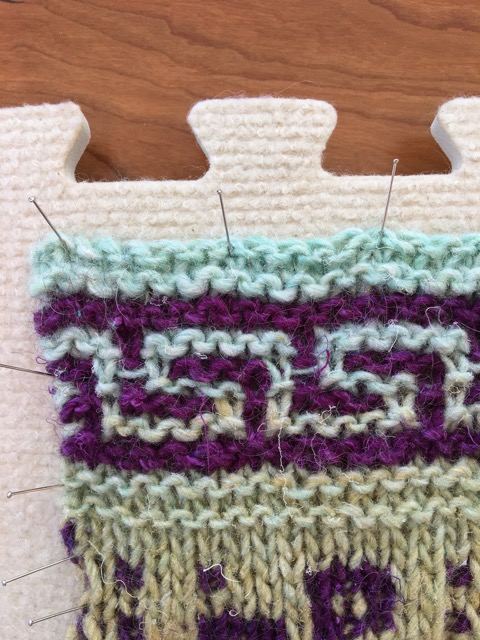 Place mitts flat on
blocking mats like these
or on top of a towel laid out on a spare bed or rug
(any surface in which you can push pins into will work).
Use straight pins or t-pins (these are good as they don't pull through your stitches).

Starting at one corner, put pins along

the edges of the mitts, straightening out the edges and pulling to match final measurements.
Let dry, then remove pins.
Sewing Mitts
Before you sew your mitts, compare your cast on and bind off edges. Frequently your cast on edge will be looser and stretchier than the bind-off edge. If this is the case with your mitts, consider which edge you want to be on your arm vs. your hand. If you want more "wiggle room" for your hand, use the looser/stretchier edge around the hand and the tighter edge around your arm. If you have muscular forearms, you may want to reverse and place the stretchier edge around your arm.

In addition, you may want to pin your edges together first to try on your mitts before you sew them up. If you pin them, DO NOT use regular safety pins. The coil at the end of the pin will get caught in your yarn, and it will be almost impossible to untangle it. Instead, use coilless locking stitch markers or split ring stitch markers.

Starting at the top edge with right sides facing out, use your tail to sew the side edges for about 2 inches, or until the end of the Mosaic Garter pattern. There is no "right" or "wrong" way to sew the seam, just find your own method to create a neat, smooth edge. Try on your mitts to determine how much of an opening you'll need to leave for your thumb. Next, run your needle with yarn down through the stitches on the BACK (wrong) side of one edge to leave the seam unsewn for the thumb. Then continue seaming to the bottom of the mitts.

Repeat on second mitt. Weave in all ends. That's it, they're finished! Woot!
Action
Complete Finishing section of pattern, including blocking, sewing, and weaving in ends.
Ask me questions
During the week, if you have questions, please feel free to post them as comments to this blog post or in the Knit-Along thread in my Ravelry group here.

Share your project
If you're on Instag
ram, you can share photos of your shawl in progress using the hashtag:
#LMBKAL
. Make sure to tag @lmbdesigns.
THANK YOU!
Thank you all for joining me for this KAL! I look forward to seeing your finished projects. Please do post photos on social media or on our Ravelry group and tag #LMBKAL so we can all see!
A note on blog comments
Comments for the Knit-Along blog posts will be disabled next Monday,
November 21, so be sure to share your story, ask questions, and participate before they're closed!